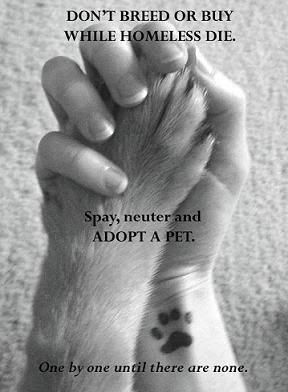 This blog was born from a need I have to work to spread the word about animal shelters and animal rescues/adoption. The need arose from a recent personal experience that I will eventually share.





This blog will grow over time and I hope you will be here to grow along with us.





Today my heart is broken and my life forever changed. The pain is too deep and the ache too wide to share my story now.





Just know, for now, that I dedicate this blog to the love of my life and my most faithful companion; Boo.






"IF YOU FIND IT HARD TO THINK ABOUT LIFE WITHOUT YOUR PET, IMAGINE YOUR PET'S LIFE WITHOUT YOU.





Every hour of every day 50 companion

animals

are euthanized in U.S. animal shelters simply because their human companions died and made no arrangements for their continuous care. This amounts to more than 500,000 orphaned pets killed every year."



pet adoption,



"Top 5 Reasons to

Adopt

a Pet





Are you thinking of getting a new pet? Have you ever considered pet adoption? Adopting a pet is a wonderful option for adding a canine friend into the family. Here are 5 simple reasons why you should choose pet adoption."






"The plight of homeless and

displaced

animals is astronomical. Shelters today are overcrowded. Domestic animals are left on the roadside to fend for themselves. Pet shops and breeders continue to sell animals to the general public without regard to conditions or quality of life after they leave their doors. It is up to all of us to make this world a better place for domestic animals."