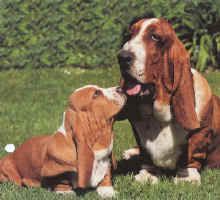 My bassett, Abby, passed away last year at age 3 so I was very happy to find this place. I miss you Abby.
Go
here
.
"
Spay
Day USA is an annual event held the last Tuesday of February.
This year it falls on Feb. 26. Created by the Doris Day Animal League (DDAL) in 1995, Spay Day USA became a program of The Humane Society of the United States when the two combined operations in 2006.
Spay Day USA is America's first and only national day of action to promote the spaying or neutering of pets. During Spay Day, veterinarians, animal welfare professionals, businesses and concerned
citizens join forces nationwide to spay or neuter as many animals as possible, while promoting spay/neuter as an essential component of
good pet health. It's the effective and humane means of decreasing the euthanasia of homeless animals in shelters."